Are RINOs in Control of the Lee Administration?
Jan 4, 2019
by David Fowler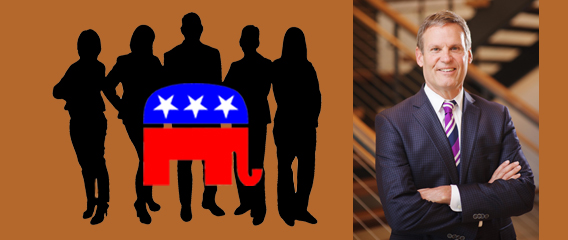 I've received a few communications lately asking if Bill Lee is being surrounded by or surrounding himself with moderates and "establishment" Republicans, often called RINOs (Republicans In Name Only), and whether that is a portent of a moderate Haslam-type administration. I think I understand why these questions are being asked, and here is my answer.
The concerns that have been expressed are based on appointments made to Lee's personal administrative staff and to his cabinet. Specifically, there are concerns about an individual who, in one case, gave money to Phil Bredesen in his U.S. Senate campaign and others who have either been employed by moderate Republicans or didn't like Trump.

An Easy Trap to Fall Into
The first thing I try to remember in situations like this is what is known as guilt by association. For the academic types, this colloquialism is what's called a logical fallacy, a form of an
ad hominem
argument. Here's a personal example of why this is a logical fallacy.
As a college freshman, I almost didn't ask a particular girl out on a date because I knew she had been seen at a movie and a church hayride with someone I didn't like from a rival high school. I
assumed
any girl who would be out with him was "guilty" of being like him or at least liking people like him. So, surely, I thought, she wasn't "my type."
But she'd caught my eye, and I did some more digging. It turned out their "association" was not of the dating variety. Guilt by association could have kept me from asking out the wonderful woman who has been my wife for 37 years!
In other words, there may be all kinds of reasons why a person does something with or is associated with another person, so we need to be careful not to attribute all of one person's qualities and beliefs to another.
For example, I suspect there are people reading this blog who work for or work with someone because that's their job or part of their job, and they would not want the character qualities or views of that other person attributed to them. Perhaps the person just needed the job, and it was the best one then available.
Also, different people have different thresholds of disagreement they can stomach in their workplace and different ways of compartmentalizing their work and personal values. In a different environment, they might be different.

Giving People the Benefit of the Doubt
In fact, based on my personal knowledge of some of Lee's appointments, I consider them allies, but I also know that doesn't mean we will agree all the time. As to the others Lee has appointed that I don't personally know, I will give them the benefit of the doubt. Doing so, to me, is simply the charity about which the Apostle Paul spoke in Corinthians 13. There will be time enough for action if criticism of their actions is later deserved.

But What If They Are RINOs?
This question is where my thinking has changed the most over the last year or so. What I am trying to learn to do when things don't turn out as I would have hoped is to call to mind what Charles Haddon Spurgeon, the "prince of preachers," said in his sermon on Matthew 20:15: "There is no attribute more comforting to [God's] children than that of God's Sovereignty." I am finding that to be true.
As to our personal situations, Spurgeon went on to say, "Under the most adverse circumstances, in the most severe trials, they believe that Sovereignty has ordained their afflictions, that Sovereignty overrules them, and that Sovereignty will sanctify them all."
The same comfort is also true when it comes to Lee's administration and those whom he appoints to serve in his administration. In his book
The Attributes of God
, theologian A.W. Pink wrote:
The absolute and universal supremacy of God is plainly affirmed in many Scriptures. "Thine, O LORD, is the greatness, and the power, and the glory, and the victory, and the majesty: for all that is in the heaven and in the earth is thine; thine is the kingdom, O LORD, and thou art exalted as head above all . . . And thou reignest over all" (1 Chronicles 29:11-12). Note "reignest" now, not "will do so in the Millennium." "O LORD God of our fathers, art not thou God in heaven? and rulest not thou over all the kingdoms of the heathen? and in thine hand is there not power and might, so that none [not even the Devil himself] is able to withstand thee?" (2 Chronicles 20:6). Before Him presidents and popes, kings and emperors, are less than grasshoppers (emphasis supplied).
So, to you who are concerned about Lee's appointments, fear not. Any RINOs are nothing but grasshoppers in God's sight! He has the Lee administration under His control.
---
David Fowler served in the Tennessee state Senate for 12 years before joining FACT as President in 2006.