Casada, Cothren, Politicians, and Christians
May 10, 2019
by David Fowler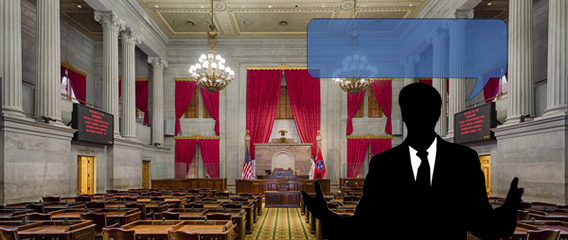 Earlier this year God broke and humbled me in a deeper and more profound way than ever before, yet it was deeply and profoundly life giving, too. As a result, the events of this week surrounding Tennessee's House of Representatives, its Speaker, and his former Chief of Staff have weighed heavily on my heart. It's not just because Speaker Glen Casada is a personal friend and I've met Cade Cothren; it's much deeper than that.
I believe what is happening in our legislature reflects the heart-breaking state of what is called or passes for Christianity in our country.
Like profiling in politics or law enforcement, any broad generalization is sure to offend some, but all of us who profess to be Christian need to take a sober assessment of the situation in the House and what it says about us and what is being taught from our pulpits.
Why? Because almost all of those we've elected will tell you they are Christians. Most go to church rather faithfully. But with what we've seen this week from our Christ-professing legislative leaders, Democrat and Republican alike, I have to wonder why any non-Christian would find being a Christian attractive?

The False Separation of 'Church' and State
I know that some Christians (and non-Christians) reading this would say, "You are confusing the sacred and the secular. The House is a political body and not 'the church.'" I understand that coming from non-Christians, but not from Christians. Such a statement reflects one of the greatest false dualisms in the history of Christianity. It draws the line between the secular/profane and the sacred between an ecclesiastical institution or hierarchy (a "church") and that which is not within its narrow confines. So "church things" are good and important to God and politics is not.
It is this
false and unbiblical dualism
1
, in contradistinction to what I often hear a pastor say rightly—"The Gospel changes
everything
"—that has led to the situation in the House.

The Cause of the Current Problems in the House
Having now dispensed with the aforesaid unbiblical limitation of God's authority, we Christians need to consider what we read in James 4:1–10:
What causes quarrels and what causes fights among you? Is it not this, that your passions are at war within you? You desire and do not have, so you murder. You covet and cannot obtain, so you fight and quarrel. You do not have, because you do not ask. You ask and do not receive, because you ask wrongly, to spend it on your passions.

You adulterous people! Do you not know that friendship with the world is enmity with God? Therefore whoever wishes to be a friend of the world makes himself an enemy of God. Or do you suppose it is to no purpose that the Scripture says, "He yearns jealously over the spirit that he has made to dwell in us"? But He gives more grace.

Therefore it says, "God opposes the proud but gives grace to the humble." Submit yourselves therefore to God. Resist the devil, and he will flee from you. Draw near to God, and he will draw near to you. Cleanse your hands, you sinners, and purify your hearts, you double-minded. Be wretched and mourn and weep. Let your laughter be turned to mourning and your joy to gloom. Humble yourselves before the Lord, and He will exalt you (ESV).
The Good Fruit of Painful Humiliation
But does not this Scripture passage in James conform to what Christians are told about the Christ we profess and into whose image God the Father desires to conform us?
Have this mind among yourselves, which is yours in Christ Jesus, who, though He was in the form of God, did not count equality with God a thing to be grasped, but emptied Himself, by taking the form of a servant, being born in the likeness of men. And being found in human form, He humbled Himself by becoming obedient to the point of death, even death on a cross. Therefore God has highly exalted Him and bestowed on Him the name that is above every name, so that at the name of Jesus every knee should bow, in heaven and on earth and under the earth, and every tongue confess that Jesus Christ is Lord, to the glory of God the Father (Philippians 2: 5–11 ESV).
Do we not see here the deep humiliation of Jesus before the world? And, by the word "therefore," are we not told that His exaltation by the Father over
all things
was the
necessary
(or we might say "logical") fruit of His voluntary humiliation?
So, why is being Speaker or, for that matter, a party leader or even a state legislator (or "respected cultural commentator") so important? Why would we think these positions are a "thing to be grasped," if in grasping them, we let go of, or worse yet, spurn the
real
glory that never ends and cannot be corrupted that the Heavenly Father has promised by the indwelling of the very Christ He has already glorified (Colossians 1:27)?
I suspect it is because the sin that still tempts us also still makes us prone to "exchange the glory of the immortal God" (Romans 1:23) for "friendship with the world" (James 4:4) and, in Jesus' words, to desire "glory from one another [instead of] the glory that comes from the only God" (John 5:44, ESV).

Getting the Perspective Right
But this is the scriptural coup de grace that nails all Christians, me included:
Brothers, if anyone is caught in any transgression, you who are spiritual should restore him in a spirit of gentleness. Keep watch on yourself, lest you too be tempted. Bear one another's burdens, and so fulfill the law of Christ. For if anyone thinks he is something, when he is nothing, he deceives himself. But let each one test his own work, and then his reason to boast will be in himself alone and not in his neighbor. For each will have to bear his own load (Galatians 6:1–5 ESV).
In Galatians, Paul has just explained the necessity of God's grace because the righteous demands of God's law are
impossible
for
any
of us to keep by human effort. So, "transgression," even among professing Christians, is going to happen and we "deceive" ourselves if we think otherwise (1 John 1:8).
But unlike those who say grace allows the Christian to keep sinning so don't worry about it (Romans 6:1) or to "wink" at the transgression by saying "there but for the grace of God go I," restoration is needed, because we are supposed to love one another enough that we don't want one of our brothers or sisters in the faith to "fall short" of that
real
glory that awaits him or her (Romans 3:5–10, 23, 8:18).

Getting the Attitude Right Is the Key
But—and this is key—those who would see the transgression of a professing Christian and would seek to be a source of restoration need to remember that
none of us are beyond doing that which we deem most heinous in others
.
If we think that, then James says we "deceive" ourselves. We are thinking of ourselves as "something" and somehow better, particularly if our boasting is based on our supposed goodness compared to that of our "neighbor." Before God, I will have to "bear" my "own load" of transgressions,
because the true comparative is not my neighbor's righteousness (or lack thereof) but Jesus' perfect righteousness.
That is why Christians are called to bear one another's burdens, for some measure of transgression and our corresponding need of restoration is our lot until we are "set free from this body of death" (Romans 7:24).

In Conclusion
So, let all who name the name of Christ—preacher, layman, lobbyists, cultural commentator (me), and legislator—see this situation in the House—the grasping for temporal power and glory by individuals and parties by the means commended to us by the world—and for Jesus' sake before a watching world "mourn and weep. Let our laughter be turned to mourning and our joy to gloom. [Let us] humble ourselves before the Lord" (James 4:9–10) and let Him decide who among us should be exalted, and we all know Who that is.
If that happens, then I suspect the situation in the House will resolve itself and the outcome will shock a watching world disillusioned with and put off by Christians and Christianity.
NOTES
The line drawn by the Bible goes from God right down the middle of every human heart and every human institution. But the type of line-drawing cited above is too often heard from today's pulpits. Recently, a good friend said his preacher, in what most would call an "evangelical, conservative, Bible-believing" church, used the story of Jesus telling Pilate, "You would have no authority over Me, unless it had been given you from above" (John 19:11) as an illustration of Jesus "not caring about politics" and said Christians shouldn't either. Really Jesus' words were a declaration that all authority in the human realm finds its source in God to whom those who wield it will someday give an account. (See Acts 4:26–28; Daniel 4:30–37.)
---
David Fowler served in the Tennessee state Senate for 12 years before joining FACT as President in 2006.