Experiencing the Real Glory of Christmas for the First Time
Dec 20, 2019
by David Fowler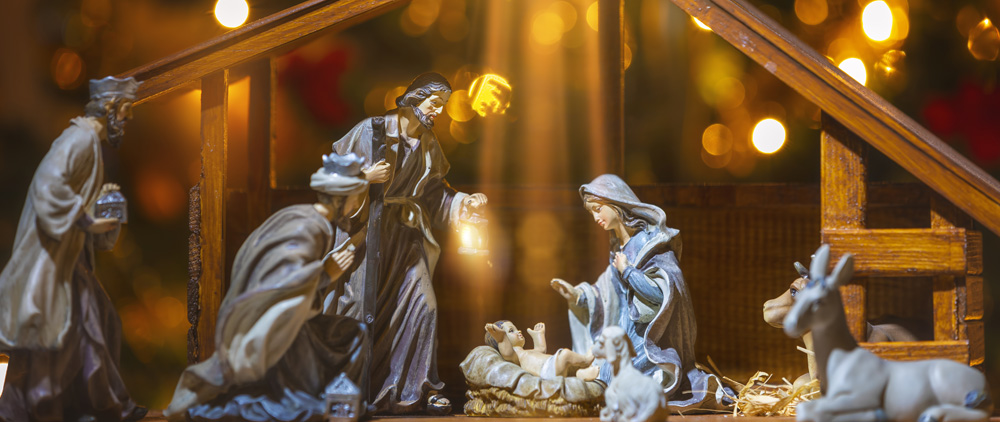 For really the first time in my 61 years, I have
begun
to understand what the Christmas season is actually all about, and it is in that sense that I'd be inclined to say that I'm really celebrating Christmas for the first time. May my story help make your Christmas the best ever, too.
I'm not saying that I didn't know until this year that Christmas was about the birth of Jesus. Having been raised in the church, I knew that, and I knew that Jesus came to earth to save me from my sin and, being forgiven of my sin, I would go to heaven and not hell. I knew that as a consequence of God's forgiveness and promise of eternal life, I was to live for God while on earth, which meant living according to God's eternal moral law.
But what I just said is not the purpose of the Incarnation—God, in the Second Person of the divine triune essence, taking on our human flesh and a human nature unspoiled by our bondage to sin's power.

The Purpose of the Incarnation Is More Than What I Knew
I know that may sound blasphemous to some, but living according to a new moral code is not the purpose of the Incarnation; anyone can decide some religious or philosophical moral system is better and try to live by it. People do that all the time. It's called moralism; Jesus hated it. No moral amount of living ever made one "right" with God.
Even forgiveness of our particular sins, whether in thought or deed, is also not the end or goal of the Incarnation, though it is a necessary means to the real end or goal of the Incarnation.
The real end or goal of the Incarnation is that we might come to know God as He really is and be known by God (see Galatians 4:9). God's desire in the Incarnation was to shine "the light of the
knowledge of the glory of God
in the face of Jesus Christ" (2 Corinthians 4:6, NKJV) into the hearts of those whose thoughts about Him were darkened from being turned away from Him (Romans 1:21, Ephesians 4:18, Isaiah 60:1).
Indeed, the attraction of heaven is supposed to be beholding the glory of God. This is summed up in 2 Thessalonians 2:14, "He called you by our gospel for the obtaining of the glory of our Lord Jesus Christ" (NKJV).

Realizing How Little I Understood the Incarnation's Purpose
Over the last 18 months or so, I realized that I had not really grasped the purpose of the Incarnation when I read these words from
The Glory of Christ
, a series of discourses on John 17:24 written in 1684 by John Owen. The verse is as follows: "Father, I desire that they also whom You gave Me may be with Me where I am, that they may behold My glory which You have given Me; for You loved Me before the foundation of the world" (NKJV).
Owens wrote that the "design" of his discourses on this verse was "to declare some part of that glory of our Lord Jesus Christ which is revealed in the Scripture,
and proposed as the principal object
of our faith, love, delight, and admiration."
To be honest, this last part—that the principal object of
all
that is to be true of me as a Christian and at the base of my human actions and affections is to be rooted in a "love, delight, and admiration" bound up in the glory of Christ—was new to me in a way I'd never considered.
I knew about
doing things for
the glory of God and Christ, but as I read, I realized I cannot do anything that would add to the glory of God. And I realized that my doing
for
the glory of God did not always proceed
out of
a "love, delight, and admiration" found in the glory of God. Rather, I think my doing was born more out of the high sense of
moral
duty with which was natural to me and that was nurtured in me by my parents. So, quite frankly, this was for me a new way to think of the glory of God.

Humbled in the Dust and My Motivations Laid Bare
And then Owen wrote this, which humbled me in the dust and laid bare the motivations for all my Christian "doings":
No man shall ever behold the glory of Christ by sight hereafter, who does not in some measure behold it by faith here in this world. . . . Where the subject (the soul) is not previously seasoned with grace and faith, it is not capable of glory or vision. Most men will say with confidence . . . that they desire to be with Christ, and to behold his glory; but they can give no reason why they should desire any such thing, only they think it somewhat better than to be in that evil condition which otherwise they must be cast into for ever, when they can be here no more. If a man pretend himself to be enamoured [sic] on, or greatly to desire, what he never saw, nor was ever represented unto him, he does but dote on his own imaginations. And the pretended desires of many to behold the glory of Christ in heaven, who have no view of it by faith whilst they are here in this world, are nothing but self-deceiving imaginations. (emphasis added)
Owen then adds this:
No man ought to look for anything in heaven, but what one way or other he has some experience of in this life. . . . Hence is it that men, utterly strangers unto all experience of the beginning of glory in themselves as an effect of faith, have filled their divine worship with images, pictures, and music, to represent unto themselves somewhat of that glory which they fancy to be above. For into that which is truly so, they have no prospect, or can have; because they have no experience of its power in themselves, . . . (emphasis added)
I realized then that this present, here-and-now sight and experience of the
eternal
glory of Christ must be what the Apostle John meant when he wrote, "and we beheld his glory" (John 1:14, NKJV).

The Fundamental Purpose of the Incarnation
The most fundamental fact revealed in the Bible is that we were made in the image of God for the glory of God
and
to enjoy the glory of God, and the glory of Christmas is that God has come to take on our flesh that, in union with Him, we might be fitted again for the glory that we lost and exchanged for lesser glories.
Interestingly, and consistent with what Owen wrote, Jesus diagnosed our human condition in terms of glory. He said, "How can you believe, when you receive glory from one another and do not seek the glory that comes from the only God? (John 5:44, ESV).
And the Apostle Paul further explained what Jesus said this way:
Professing to be wise, they became fools, and changed the glory of the incorruptible God into an image made like corruptible man—and birds and four-footed animals and creeping things. . . . and exchanged the truth about God for a lie and worshiped and served the creature [i.e., myself] rather than the Creator, who is blessed forever" (Romans 1:22–23, 25, NKJV, emphasis added).
Sin is not this or that particular wrong action or attitude, but our
native condition
: we all "fall short of the glory of God" (Romans 3:23, NKJV).
The glory of God is at the heart of the Incarnation; it is what Christmas is supposed to celebrate. Our exchange of gifts and Christmas lights, as much as we enjoy them, is tawdry by way of comparison, but it is a shiny reminder of what God, in Christ, was actually giving the people who lived in darkness.

Why the Angels Said, 'Glory to God in the Highest!'
As I reflected on all this a few days ago, I think I now understand why the angels said "Glory to God in the highest!" to the shepherds who were out in the fields at the time of Jesus' birth.
In Christ's birth, the angels realized they were witnessing the next step in the unraveling of the "mystery" of what God had been up to from the beginning that they had progressively witnessed along the way. The "manifold wisdom of God" was being "made known by the church to the principalities and powers
in the heavenly places
" (Ephesians 3:9–11, NKJV, emphasis supplied).
And when we, too, see the wisdom of God revealed in the Incarnation, we will no doubt exuberantly and spontaneously exclaim with the angels, "Glory to God in the Highest!" and then, like the wise men, fall down and worship Him.
---
David Fowler served in the Tennessee state Senate for 12 years before joining FACT as President in 2006.