A 'Little' Incarnation Doesn't Do Much to Make Christmas Merry
Dec 21, 2021
by David Fowler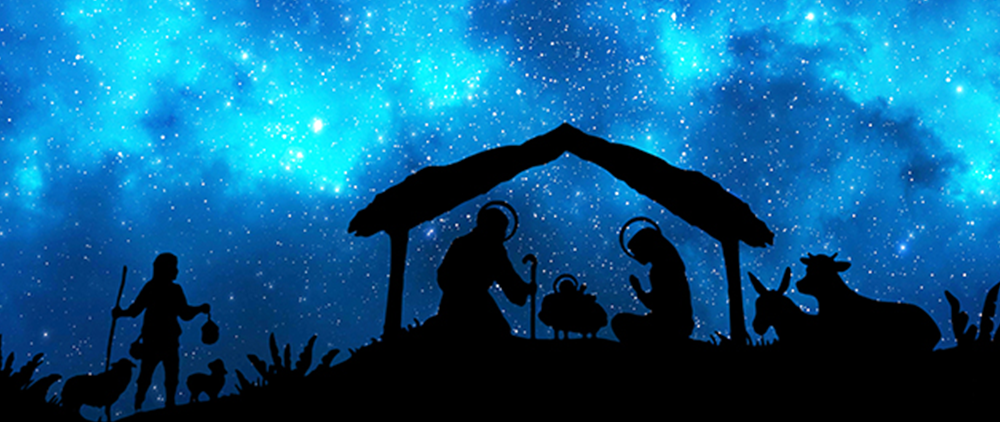 A couple of weeks ago, the story of the Incarnation celebrated on Christmas day finally became "larger than life" for me. I realized I had such a "little" view of the Incarnation. Only a
"BIG"
incarnation makes Christmas truly merry
.
The "Little" Incarnation.
A "little" Incarnation is one in which Jesus, the Son of God and second Person of the Trinity, took on human flesh to make in Himself an atoning sacrifice for the sins of us who are,
by nature
, human flesh. As those under the Old Testament would have put it, we have a high priest who can mediate for us between God and Man because He is God and Man
.
That is all true according to the Bible, but the
"BIG"
Incarnation is the merriest part of the Christmas story
.
Where I Read About the "BIG" Incarnation
I came to understand the
"BIG"
Incarnation when re-reading 1 Corinthians 15:42-49 a few weeks ago. The key to the
"BIG"
Incarnation is the parallel it draws between Adam and Christ. So, I'll break down what the verses say as I now understand them, using the first-person narrative.
I began with verses 42 and 43: "The body is sown in corruption, it is raised in incorruption. It is sown in dishonor, it is raised in glory. It is sown in weakness, it is raised in power."
This is the hope of Christianity—that this life is not as good as it gets. We can go from corruptible, not only by death but also from an ethical/moral standpoint, to incorruptible.
Who would deny that such a permanent state of being, if true, would not be glorious? No more struggling with the things for which I even condemn myself!
Who would deny that this would be the most powerful kind of change
if true?
I have tried changing things about myself on my own and didn't have the power to do it.
The Problem—The Insurmountable Barrier.
Here, though, is the problem. Speaking of me, the Apostle Paul notes in verses 44-45 that what I have is "a natural body," and it must be "raised a spiritual body. There is a natural body, and there is a spiritual body. And so it is written, 'The first man Adam became a living being.'"
Now skip with me to verses 47 and 48 and follow the parallelism: "The
first
man was of the earth, made of dust (that's me); the
second
Man is the Lord from heaven (that's Jesus). As was the man off dust, so also are those made of dust; and as is the heavenly Man, so also are those who are heavenly."
To get to this glorious new incorruptible state I must have a "spiritual body." Like Jesus, I must be heavenly not just in my head (my thinking), heart (affections), and will (my actions), but my body too.
Well, that's just great! I have a natural body. I am all human through and through just like Adam. And as a descendant of the fallen, messed up Adam, I am messed up, too. I was not "born from above" (John 3:31), as Jesus put it to Nicodemus. I am not a "heavenly Man." I don't have a "spiritual body."
So, how do I get from here to there, from this to that?
The Incarnation Grows a Bit Bigger
Backing up a bit, Paul tells us in verse 45 that Jesus was the "second man" and the "last Adam." By taking on a human nature "born from above" and therefore uncorrupted by sin, the
human flesh Jesus
, by being sinlessness until death, attained in His resurrected body and ascension that "spiritual body."
This was the destiny of the first man, Adam, the man of human nature, the man of the dust, had he not turned away from the glory of God to find his own glory (Romans 1:21-24).
But God, knowing all things from eternity, including Adam's fall, said through the Apostle Paul that Adam "was a
type
of Him
who was to come
" (Romans 5:14). As the Apostle says in verse 46, "the spiritual is not first, but the natural, and afterward the spiritual."
If this order of things is true, then, if I can be forgiven (the "little" Incarnation), there is still hope that my present messed up human nature does not have to continue unchanged forever because "The last Adam," Paul says, "became a life-giving spirit" (v. 45).
The "BIG" Incarnation.
But how can I be joined to the "heavenly Man" so that I am "in Him"?[i] Whoever heard of such a thing?
Nobody, really, at least not until the Incarnation proved that the Divine Heavenly Spirit (God is Spirit) can be joined or united to our human flesh without the human becoming God or God losing His God-ness in a mess of intermingling confusion and change. As with the Incarnation, in me being joined to Christ, the Creator-creature distinction is maintained, but the power of the life of God, the "life-giving Spirit," can now be resident in me.[ii]
Paul puts it this way, "And as we have borne the image of the man of dust, we shall also bear the image of the heavenly Man (v. 49)."
The Difference Between a "little" Incarnation and a "BIG" Incarnation
Here is Paul's final word on this subject: "Now this I say, brethren, that flesh and blood
cannot
inherit the kingdom of God; nor does corruption inherit incorruption. For this corruptible
must
put on incorruption, and this mortal
must
put on immortality (v. 50, 53)." Pretty black and white isn't it?
But a "BIG" Incarnation and Jesus' bodily ressurection and ascension can,
by parity of reasoning,
provide assurance that the corruptible in me, both in mind, heart, and body, can put on the incorruptible and the mortal that is me can put on immortality.
To believe in a "BIG" Incarnation makes for the merriest of Christmases. As the Angels said, "Glory to God in the Highest!"
---
[i] See e.g., 1 Corinthians 1:30, 2 Corinthians 5:17, Galatians 2:20, Ephesians 2:6, 10, 4:15. Without being joined to Jesus, He is just another moral teacher whose precepts I would try to follow, whose life I would try to emulate. That is good, but it is moral reform only.
[ii] Because this joinder is required, I now know why Jesus is the only way to God, and therein is cause to share the gospel far and wide.
David Fowler served in the Tennessee state Senate for 12 years before joining FACT as President in 2006.