"Do You Hate the Supreme Court" I Was Asked?
Feb 11, 2022
by David Fowler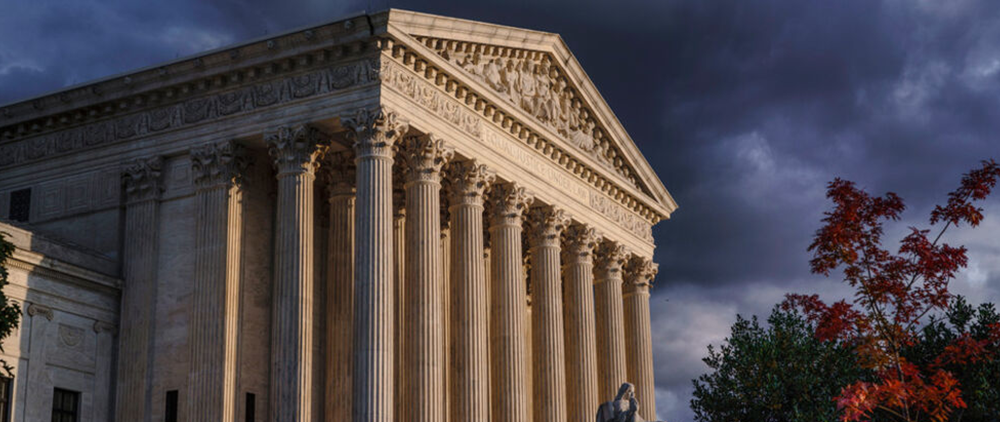 I was on a podcast this week to discuss the Ninth Amendment and my most recent book,
The Naked Court—Understanding and Resisting a Damnable United States Supreme Court
, and one of the hosts asked, "Do you hate the Supreme Court?" It caught me off guard, but here is my million dollar ''final answer."
Yes.
I know the only thing we can hate with impunity in our cancel culture is the person that hates something, but I can say nothing less about what the Supreme Court has done and become and, with clear conscience, profess to be a Christian.
I have come to believe that I did not know God well when I did not hate, even as God does, that that which robs Him in a most profound and fundamental way of His glory and, therefore, casts dishonor and reproach on Him to whom all glory and honor as our Creator is due (Revelation 4:9, 11).
What Changed for Me Personally?
For the last two years I have been reflecting on the "glory of God." It is a summary description found in the Bible of a personal being who is eternal being, from whom all created being derives its origin and by whom it continues moment-for-moment in its existence, and whose being is an infinite plenitude of perfect holy love.
This week it hit me like never before just how much such a God must hate "sin," described as
anything
that "fall[s] short of the glory of God" (Romans 3:23), given that all He created was created to reveal His glory (Psalm 19).
I'm sure I still don't understand to the degree I should the gravity of falling short of the glory of God intended when He made human beings in His very image, but I know I did not hate as God would hate that which in me too often falls short of the glory of God as His image bearer. As C.S. Lewis once said, unimaginable and eternal glory as a created being is held out to me, and I content myself with lesser things.
But, dabbling with even a little sin in one's life is no little thing in God's eyes. If falling short of the glory of God was a small thing, the Father would not have subjected His Son, the second person of the Triune God, to the ignominy of taking on a human nature, living in the midst of this constant whirlpool of degradation called fallen human existence, and being killed by those He created.
What Changed for Me Culturally and Politically
I also know I did not hate it as I should when human institutions expressly and publicly deny the glory of God and the reproach that is cast on the honor due Him when that is done.
For example, I used to see same-sex "marriage" as a wrong, an ethical violation of God's law,
but that can only be so because it denies an aspect of the glory of God in relation to His creation
and the overarching purpose of His creation, namely, creating a theater in which to display a portion of the awe and wonder that is His glory and the awesome privilege we human beings have to be both actors in the drama of the unfolding of His glory in what we call history and admiring, marveling members of the audience.
I cannot imagine what greater reproach could be cast on the glory of God and the honor due Him as Creator by the United States Supreme Court when, in 2015, it said male and female were devoid of any given meaning or glory and particularly so as in relation to the marital relationship.
How could I say I love God and not hate that which cast such a reproach on Him. How could I say I loved and valued the glory of God above all things and care not that a human institution would cast His glory under its feet as so much rubbish?
What This Means for Christians in Tennessee
For that reason, I wrote the following as the last chapter in my new book, which you can download as a PDF for free at
this link
or buy at
this link:
The foregoing is serious business in God's sight. First, because everything is God's by virtue of creation (Exodus 19:5, Psalm 24:1, Acts 17:24), Second, because everything must reveal His glory (Psalm 19:1). Third, God says He will not give His glory to another (Isaiah 42:8, 48:11). That should give us pause.

Two examples from Scripture should suffice to prove how seriously God takes His glory, and they both come from the sphere of government:
Nebuchadnezzar's sovereignty and sanity were taken from him when he thought his rule was by the "might of his power and the glory of his majesty" (Daniel 4:30-33), and
Herod's sovereignty was taken by his immediate death because he allowed the glory belonging only to God to be ascribed to him by the people without disabusing them of that notion by publicly "giv[ing] the glory to God" (Acts 12:21- 23).
* * * * *

While a person who is in truth a Christian is no longer under condemnation (Romans 8:1) and the Body of Christ cannot be under condemnation because that would put under condemnation the resurrected Christ to whom Christians are joined, that does not mean that Christians, individually and as part of the Body, are not subject to God's corrective discipline (Proverbs 3:11, Hebrews 12:5, Revelation 3:19).

I believe God's righteous and corrective discipline must come upon the visible church if Christians who say they believe in the God of the Bible remain complacent in the face of a Supreme Court that has denied the transcendent God.

One way that complacency is demonstrated is by submitting to judgments by the Supreme Court, posing as law, that reinterpret what it means to be human without exercising any of the multiple means of resistance that are available. Those judgments arise from "arguments" by a Court that has "exalted" itself "against the knowledge of God."

Consequently, the heart and mind of a Christian should be bent by its affection for and knowledge of the "glory of God in the face of Christ (2 Corinthians 4:6)25 toward "casting down [such] arguments" for the sake of bringing "every thought into captivity to the obedience of Christ" (2 Corinthians 10:5).

The choice now before for Christians is to defend and support what they say they believe or capitulate.
The means of supporting what we believe in Tennessee is the Marital Contract Recording Act, Senate Bill 562/House Bill 233. Learn more about it at this link.
---
David Fowler served in the Tennessee state Senate for 12 years before joining FACT as President in 2006.