Tennessee Pastors Put Same-Sex 'Marriage' in the Crosshairs of Free Speech
Nov 8, 2019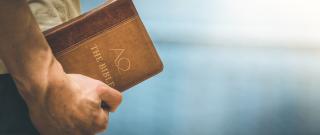 Yesterday, an organization representing a number of Christian pastors and churches raised the stakes a bit higher in litigation pending before the Tennessee Court of Appeals over the constitutionality of actions urged by the Haslam administration back in 2015 in connection with the licensing of same-sex "marriages" in Tennessee. This organization is rightly raising issues that Governor Lee, the General Assembly, and county clerks will very soon have to address.
The organization,
Tennessee Independent Baptists for Religious Liberty (TIBLR)
, was officially formed in 2018, and its purpose, in part, according to the pleadings it filed with the Court of Appeals, is "to inform Pastors concerning things of a critical nature that affect our local churches and their ministries" and protect "religious liberty for all Tennesseans."

The litigation background
The pleadings TIBRL filed were in connection with a lawsuit filed by other ministers and citizens in January 2016. That lawsuit raised various issues regarding the validity and administration of Tennessee's marriage licensing statutes after the U.S. Supreme Court's 2015 decision involving marriage by same-sex couples,
Obergefell v. Hodges
.
Part of the reason for that lawsuit was because of Governor Haslam's actions in response to the Supreme Court's decision. Immediately after it was released, then-Governor Haslam, flanked by Attorney General Herbert Slatery, said Tennessee would begin issuing marriage licenses to same-sex couples.
That lawsuit was dismissed by the Trial Court on procedural grounds, the Court of Appeals affirmed the dismissal, and the Tennessee Supreme Court denied permission to appeal to it.
But the original plaintiffs have filed a motion, now before the Court of Appeals, to have the original lawsuit reinstated. It is in that appellate proceeding that TIBRL has asked for permission to file a brief.

Why does TIBRL now want to get involved?
That clerks did as Haslam instructed was apparently not much of an issue for TIBRL's constituent pastors until it examined what the Court of Appeals said last year in affirming dismissal of the original lawsuit. In its opinion, the appellate court reasoned that the
Obergefell
decision
required
Tennessee to issue marriage licenses to same-sex couples. The Tennessee Supreme Court eventually denied an appeal from that decision.
Effectively,
TIBRL
realized that the Court of Appeals seemed to have ignored the fact that
Obergefell
did not result in any injunction allowing county clerks to disobey and ignore this provision in Tennessee's Constitution:
Any policy, law or judicial interpretation, purporting to define marriage as anything other than the historical institution and legal contract between one man and one woman, . . . shall be void and unenforceable in Tennessee.
According to the affidavit of a well-credentialed constitutional law expert filed with the motion to have the lawsuit reinstated, this provision in Tennessee's Constitution still applies to the state's marriage licensing statutes.

The Constitutional Objection of the TIBRL
What has happened is that the Court of Appeals' opinion has heightened the possibility that there is now a real legal conflict between how county clerks are
interpreting
the definition of marriage under the state's licensing statutes and what the Tennessee Constitution
says
the definition is. And this potential conflict creates a real problem for TIBRL's constituent pastors.
Here is what
TIBRL wrote in the brief
it submitted:
When, therefore, the Defendant [county clerk] purports to change the state's definition of marriage in the absence of any court order or legislative enactment authorizing the same and TIBRL's constituent ministers must sign the marriage license issued by Defendant as a condition of the marriage they solemnize being accorded legal recognition the provisions of both the U.S and Tennessee Constitution that pertain to speech and conscience are implicated.
Let me interpret. As a condition of solemnization, the pastors are required to sign a legal document. That document is based on a law that now may define marriage as a relationship in which the two biological sexes are irrelevant if the Court of Appeals' interpretation of
Obergefell
is correct.
However, that interpretation is not binding on any state or local official since the Court of Appeals said it shouldn't even hear the case. In other words, the court's comment about
Obergefell
is like when you're in a conversation about one thing and somebody makes a comment in passing about something else that is off the subject.
But whether and how
Obergefell
applies to this provision in Tennessee's Constitution must be decided because, in signing the county clerk's license, as far as the First Amendment is concerned, the pastors may be "communicating a message" about the nature of marriage—that biological sex is irrelevant—that is diametrically opposed to the one they communicate as ministers.
County clerks, asserting that state law now defines marriage for the purpose of licensure without regard to biological sex
but without any law backing that up
, have created this conflict about what message these pastors are communicating relative to marriage when they sign a license.
The actions of the county clerks—precipitated by bad advice from Haslam and Attorney General Slatery—have now put TIBRL's constituent ministers in the position of having to choose between forgoing their long-standing practice as ministers of solemnizing a marital relation that the law will recognize or doing something that, in good conscience, they would not otherwise do.
This is a First Amendment problem. As the U.S. Supreme Court has said, "The right to speak and the right to refrain from speaking are complementary components of the broader concept of 'individual freedom of mind.'"
Woolsey v. Maynard
, 430 U.S. 705, 714 (1977).

What Will Happen?
I don't know what the Court of Appeals will do with the motion to reinstate the original complaint or whether it will consider the arguments in TIBRL's brief, but here is one thing I think will happen. Now that these pastors have started paying attention to the connection between what state law purports about the definition and nature of marriage and what they are
legally
doing and the
legal
document they are signing, others are bound to. And that's why this issue of same-sex "marriage" in Tennessee is not going to go away.
---
David Fowler served in the Tennessee state Senate for 12 years before joining FACT as President in 2006.

Help us Keep Family First. Your special year-end gift will help us protect and defend marriage, family, life, and religious liberty for Tennesseans. Thanks!