COVID-19, I Would Like You to Meet 'Good Friday'
Apr 10, 2020
by David Fowler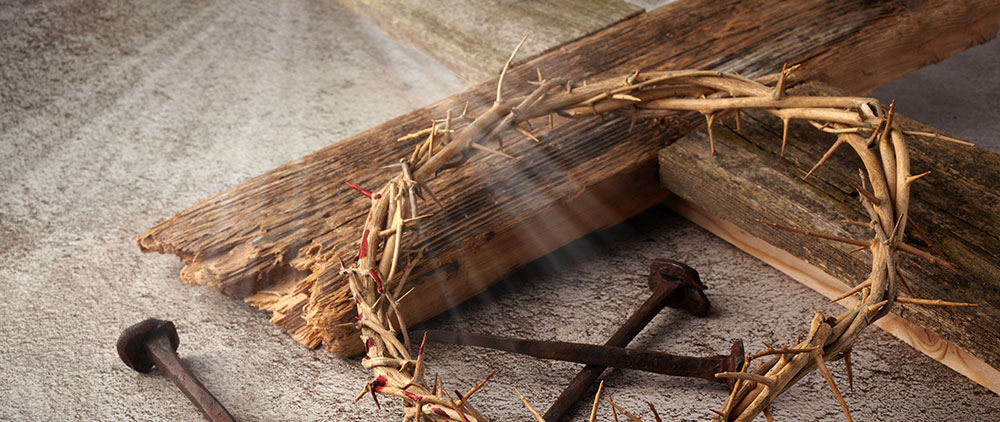 I don't think I've seen anything like what we're now experiencing with COVID-19 in terms of the news cycle; almost every news story has something to do with the virus. It is hard to think of anything else. But this week, thoughts of COVID-19 really refocused my thinking in light of what Christians call Holy Week.
As I considered the current situation in light of the crucifixion, I came to see that COVID-19 would tend to have us conclude one of two things.

The Two Conclusions Easiest to Draw
First, some might wonder how God would allow something like COVID-19? And they might conclude that either God is weak and can't stop evil, or God is not loving or He'd stop this evil.
Second, for those of us who are Christians, it might lead us to deny or at least soft-peddle the sovereignty of God over all things lest we implicate Him in this evil. Consequently, what few "faith" messages I've read in mainstream media skip over the possibility that COVID-19 has anything to do with God and convey to us warm fuzzies about how God is always with us and God loves us, trying to provide assurance, comfort, and peace.
I get both of these conclusions. In my view, both are wrong.

Why Good Friday Tells Me That the First Conclusion Is Wrong
As to the first, I really do get it, because, in some ways, it really wasn't that much different from my own experience.
I was raised in the church. Consequently, I never denied God's existence because of bad things in my life or the world, but I more often than not thought of the Father 'part' of the Triune God more in terms of wrath and anger at sin than love. As some of the older writers would have put it, there was "no sweetness" in the Father.
But I was wrong; I had a wrong view of God.
John Owen, perhaps the greatest Christian theologian England ever produced, wrote this in regard to 1 John 4:9 in which the Apostle John speaks of the love of the Father being "manifested toward us" in sending "His only begotten Son into the world:"
This is the only evidence given us that "God is love." Hereby alone is the divine nature as such made known unto us,—namely, in the mission, person, and office of the Son of God; without this, all is in darkness as unto the true nature and supreme operation of this divine love. (emphasis added)1
Let that sink in. The Apostle John is agreeing with those I first mentioned—that apart from the cross, we would look at the mess around us and conclude that if there is a God, love is not intrinsic to His very being and nature.
Good Friday bids us all look to the cross for assurance that God is love, and there we will find evidence that we have not been abandoned by God in the midst of life's difficulty, hardship, pain, struggle, and, yes, even physical death. The man Jesus was literally forsaken by God (Matthew 27:46) in our place in order that those who believe would know that they will never be forsaken by God, regardless of anything that would come their way (Romans 8:35–39).

Why Good Friday Tells Christians (and Everyone With Ears to Hear) the Second Conclusion Is Wrong
Here is the toughie—seeing COVID-19, even with all of its very real negatives, including the death of loved ones, as under the sovereignty of God.
I get the reason we do not want to speak of or want to soft-peddle God's sovereignty in a situation like this. Having never heard much that I can recall about God's sovereignty or providence, it would seem logical to me that attributing something like COVID-19 to God's sovereign purposes fulfilling His pre-creation divine decrees would make God the author of evil. Perhaps my logical conclusion is also shared by many other Christians (and even pastors), which may be why God's sovereignty and providence are now spoken of so little.
But, when it comes to Good Friday, we can't avoid Acts 4:24–28, which records what took place when Jesus' disciples gathered to hear Peter and John explain how they had been ordered by the Jewish leaders not to speak any more of Jesus:
So when they heard that, they raised their voice to God with one accord and said: "Lord, You are God, who made heaven and earth and the sea, and all that is in them, who by the mouth of Your servant David have said:

'Why did the nations rage, and the people plot vain things? The kings of the earth took their stand, and the rulers were gathered together against the LORD and against His Christ.'

For truly against Your holy Servant Jesus, whom You anointed, both Herod and Pontius Pilate, with the Gentiles and the people of Israel, were gathered together to do whatever Your hand and Your purpose determined before to be done." (NKJV, bold emphasis added)
Let me comment on three things I see in this passage. First, by quoting Psalm 2, the disciples' prayer acknowledges that God brought to pass in the present what He had said in the past would happen. How is that possible? We are given a clue: This is the same God who "made heaven and earth and the sea, and all that is in them" (Acts 4:24). Is, then, "anything too hard for God" (Genesis 18:14; Jeremiah 32:27)?
Second, providence does not mean that God forced all those named above and implicated in Christ's death to do what they did as if they were programmed robots. They acted of their own free will, but according to their sin-bent nature. Providence, simply put, means that God not only is able to work in accord with what we will and intend, but also to work against what we will and intend (Psalm 21:11, 33:10–11) or to accomplish more than we would "ask or think" (Ephesians 3:20).
Third, Good Friday and Easter mean that God chose to bring to pass through evil men committing the greatest evil imaginable the greatest good that could ever be offered to us—the complete and full restoration of the image of God that our first ancestors bore by a very real but invisible union with Christ in whom there is an indissoluble bond between man's nature and God in order that we may begin even now to enjoy, experience, and revel in as much of the glory of God as is possible among creaturely beings.
Knowing this—that, as with Jesus, even our present trials are being used by God to bring us to such a glorious recreated final end—gives the Christian solid and reasonable grounds on which to put those trials into perspective (Romans 8:18; 2 Corinthians 4:17).

Concluding Thoughts
That this nature of ours is capable of this glorious exaltation and subsistence in God is incomprehensible apart from Christ and union with Him. "No creature could conceive how omnipotent wisdom, power, and goodness could actuate themselves unto the production of this effect."
And in that same vein, I close with these words from the Apostle Paul, taken from 1 Corinthians 1:18–25:
For the message of the cross is foolishness to those who are perishing, but to us who are being saved it is the power of God. For it is written:

"I will destroy the wisdom of the wise, and bring to nothing the understanding of the prudent."

Where is the wise? Where is the scribe? Where is the disputer of this age? Has not God made foolish the wisdom of this world? For since, in the wisdom of God, the world through wisdom did not know God, it pleased God through the foolishness of the message preached to save those who believe.

For Jews request a sign, and Greeks seek after wisdom; but we preach Christ crucified, to the Jews a stumbling block and to the Greeks foolishness, but to those who are called, both Jews and Greeks, Christ the power of God and the wisdom of God. Because the foolishness of God is wiser than men, and the weakness of God is stronger than men. (NKJV, bold emphasis added)
Soli Deo Gloria.
(Glory to God alone.)
NOTES
John Owen, Meditations and Discourses on the Glory of Christ, Chapter 2.
Ibid.
---
David Fowler served in the Tennessee state Senate for 12 years before joining FACT as President in 2006.