Getting Perspective On Another Bad Supreme Court Decision
Jun 19, 2020
by David Fowler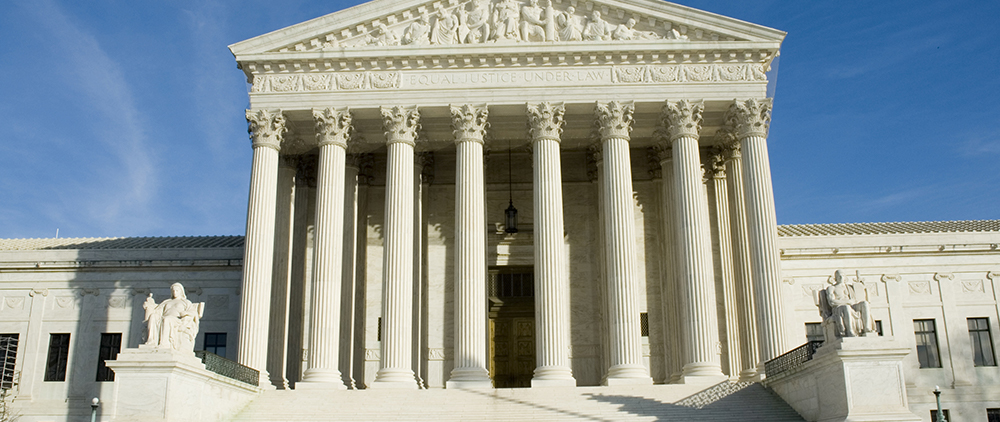 Getting Perspective on Another Bad Supreme Court Decision
Monday, the United States Supreme Court issued a judgment based upon the word "sex" in Title VII, the federal law prohibiting workplace discrimination, having a meaning it did not have when it was enacted in 1964 and one that isn't even its primary dictionary meaning now. Many will focus on the implications for their business, religious liberty, and Title IX, the federal law prohibiting sex discrimination in education. All those things are important, but I spent Tuesday morning trying to put the decision into perspective, and I'm actually quite at peace with things.
Being at peace with things and liking things with which you disagree are two different things, though with a right perspective peace can overcome dislike.
But, to be clear about the decision itself, I don't like it as a matter of constitutional law. I do not like the Court's understanding of the human person (haven't liked that since I understood
Roe v. Wade
) and what it means to be made male and female. I strongly disagree with both at a fundamental level. But perspective is a different thing.
Can Flat-Out Despair Give Rise to Real Hope?
For perspective, I turned to a book many wrongly regard as filled only with despair, Ecclesiastes, because it begins with these words, "Vanity of vanities, all is vanity." But these were the words from that book that came to my mind:
I know that whatever God does, it shall be forever. Nothing can be added to it, and nothing taken from it. God does it that men should fear before Him.

That which is has already been, and what is to be has already been; and God requires an account of what is past. (3:14—15)[i]
Then, as if to prove the point and put into perspective Monday's Supreme Court decision, these words followed:
Moreover, I saw under the sun: in the place of judgment, wickedness was there; and in the place of righteousness, iniquity was there.
You see, there really is "nothing new under the sun" (Ecclesiastes 1:9). What the Court did Monday in perverting law itself and the words of the law has "already been"—take, for instance, the Garden of Eden and the "law" regarding a tree whose fruit was not to be eaten and the distortion of the words relative to that law. Nothing new, and it will happen again.
Immediately following those words, however, were these additional words of perspective:
I said in my heart, "God shall judge the righteous and the wicked,
For there is a time there for every purpose and for every work."
Losing Perspective Because We Forget What We Need to Remember
And, then, some words came to mind on which my pastor had taught a few weeks earlier:
Is there anything of which it may be said, "See, this is new"? It has already been in ancient times before us.

There is no remembrance of former things, nor will there be any remembrance of things that are to come by those who will come after.
From ancient days to the institution of the Lord's supper, God has been telling His people, "Remember." And we're horrible at it.
The Lord's supper can easily become ritual, and what we are supposed to remember at the communion table and, by remembering, gain perspective, can flee our thoughts before the service is over and certainly by the time an adverse decision by the Supreme Court comes out on a Monday.
Summing It Up
Here's what I believe Solomon is telling us:
Get a grip! Get some perspective. You're only looking at things as they appear 'under the sun.' But you need to see them from the perspective being 'under Heaven.'
I am in charge here. The Supreme Court cannot add to nor take anything away from what I have been doing from the very beginning and will bring to a conclusion at the right season. By allowing these cycles to continue I am bringing to myself all those who will look up from their circumstances 'under the sun' and 'fear' me. And you need not worry yourself about wickedness and unrighteousness showing up where it should not be; I will judge.
Where Do We Go from Here?
To answer to this question, I turned to Habakkuk who lived at a time in his nation's life in which there was "plundering and violence, "strife, and contention," and "the law [was] powerless, and justice never [went] forth" (1:3—4) Sounds to me like what is now happening has already been!
In the midst of that, Habakkuk asks a great question: "O LORD, how long shall I cry, and You will not hear? Even cry out to You, 'Violence!' and You will not save" (1:2)
God's response is not a "happy" one. He says it will get worse. He is, indeed, bringing fierce judgment on Habakkuk's nation. But because those whom God will use to bring this judgment then "commits offense" against God by "ascribing this power" over Habakkuk's nation "to his god" (1:11), God will judge that nation.
Sounds like what has been—judgment on one nation—will turn out to be what will be—judgment on another.
So, what's the point? Vanity of vanities? No. All of this is that God's people will learn to "live by faith" (Habakkuk, 2:4).
And when they learn that, then they can say, as Habakkuk eventually did:
Though the fig tree may not blossom, nor fruit be on the vines; though the labor of the olive may fail, and the fields yield no food; though the flock may be cut off from the fold, and there be no herd in the stalls—yet I will rejoice in the LORD, I will joy in the God of my salvation. The LORD God is my strength; He will make my feet like deer's feet, and He will make me walk on my high hills (3:17-19) (emphasis supplied).
How's that for perspective?
---
[i]
All scripture quotations are from the New King James Version.
---
David Fowler served in the Tennessee state Senate for 12 years before joining FACT as President in 2006.