Thanksgiving from One 'As Mad as a Wet Hen'—Me.
Nov 25, 2022
by David Fowler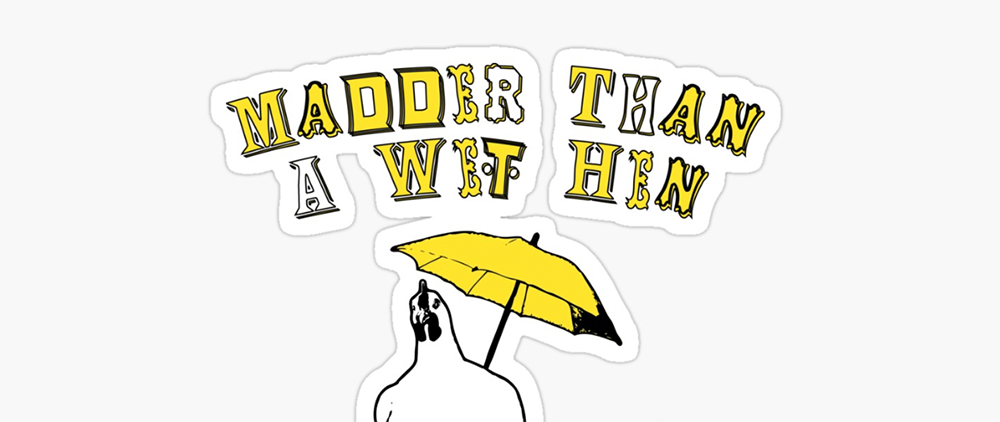 Tuesday morning, I had a great sense of thanksgiving flood over me in the absolute strangest context. I was as mad as the proverbial wet hen with some people—good people—who have been grinding me down over the import to the work of God in His Church of Christians understanding the fundamentals of law and civil government. If you ever had reason to be frustrated over something or someone and giving thanks was the last thing on your mind, maybe today's commentary will provide some help.
What came to mind that morning was something I had read in recent years in
God and Creation
by theologian Herman Bavinck.
Preceding the quote that follows, Bavinck had discoursed for over 500 pages about the nature of God and His relation to creation. He had now turned his attention to a discourse on "human destiny." This is what he said:
At bottom, religion is a duty but also a privilege. It is not work by which we bring advantage to God, make a contribution to him, and have a right to reward. It is grace for us to be allowed to serve him. God is never indebted to us, but we are always indebted to him for the good works we do. On his part there is always the gift; on our part there is always and alone gratitude.
Those few sentences deserve deep reflection and consideration, especially if we do not see the truth in them, particularly regarding gratitude. If we don't, it is imperative we consider the 500 or so pages that preceded it.
It's Application to Me and My Situation
What brought forth sudden thanksgiving Tuesday morning and remembrance of this observation by Bavinck was the realization that God has more reason every moment of my life to be as mad as a wet hen with me than I had to be mad with these people.
I realized my anger that morning and in the preceding several days was an expression of my distrust in the God whose nature and character Bavinck had expounded in the preceding 500 pages. In the moment I was, at bottom, doubting God's character.
It was then that I thought, "You foolish man! Have you considered that the Father, Son, and Holy Spirit demonstrated to you at the cross the love of the "
mother
hen" for her chicks whom she "gathers under her wing" for protection, not an
angry wet
hen (Matthew 23:37, Luke 13:34)?"
How, I thought, could the Triune God love a "wet hen" like me? Simple. Love is the very nature of the eternal relations within the Triune God, and I should know that He is love because, on the cross, His love was poured out for those who would
believe
in Him and, believing, desire to
know
Him with all their heart, soul, mind, and strength.
It was as if God said, "This distressing situation is happening because I
do
love you? I am giving you reason to turn your eyes to me rather than focus on them!"
On this precise point, John Owen
wrote
such beautiful words that I will close with them (see the Preface in the link). Know that I have prayed for you who read them that thanksgiving would burst forth from your heart and mind as water through a broken dam of resistance, streaming unrelentingly toward the Triune God for revealing Himself and His love to you (I have broken down his paragraph to aid readability):
It is a woeful kind of life, when men scramble for poor perishing reliefs in their distresses. This is the universal remedy and cure, — the only balsam for all our diseases [i.e., meditating on the glories "of God in the face of Christ"—2 Corinthians 4:6].

Whatever presseth, urgeth, perplexeth, if we can but retreat in our minds unto a view of this glory, and a due consideration of our own interest therein, comfort and supportment will be administered unto us.

Wicked men, in their distress (which sometimes overtake even them also), are like "a troubled sea, that cannot rest."

Others are heartless, and despond, — not without secret repinings at the wise disposals of Divine Providence, especially when they look on the better condition (as they suppose) of others.

And the best of us all are apt to wax faint and weary when these things press upon us in an unusual manner, or under their long continuance, without a prospect of relief.

This [mediating on the glories of Christ] is the stronghold which such prisoners of hope are to turn themselves unto. In this contemplation of the glory of Christ they will find rest unto their own souls.
May thanksgiving fill your days.
---
David Fowler served in the Tennessee state Senate for 12 years before joining FACT as President in 2006.